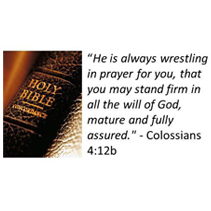 Imagine this scenario in your office during your next company meeting.
"Let's praise God for the awesome rain we had last night….it put out one of the raging forest fires in our state!
Sheila, would you give the prayer consultant's report regarding the proposed new sales strategy and target market? "As our Prayer Consultants from Marketplace ROCK sought God regarding the new strategy, they heard a couple of important words: "integrity" and "timing". They want us to carefully evaluate if pursuing the new target market will affect the integrity of our business model. They also indicate that God's timing is important indicating that it may be a bit pre-mature for the new strategy. Let's discuss what you all think about their input."
Would it be a stretch for you to hear this type of dialogue in one of your staff meetings? Why? If we are truly walking in obedience to God and His will, it should apply to our business as well as our personal life. If you can't devote extended time every day to pray and seek God for your business, then maybe it's time to engage intercessors such as Marketplace ROCK Prayer Consultants who will spiritually help fight your battles, grow your business and enhance your walk with the Lord. Prophetic, intercessory prayer can be your secret weapon for greater business success and being more effective for God's Kingdom. It can help you stand firm in all the will of God, mature and fully assured. Click here to learn how Marketplace ROCK works.